In the Presence of AbsencE
Inbal Abergil, Emily Carris, Leigh Davis, Valery Jung Estabrook, Hock E Aye Vi Edgar Heap of Birds, Nene Humphrey, Melinda Hunt, Jaamil Olawale Kosoko, M. Carmen Lane, Todd Shalom
Curated by Jillian Steinhauer

March 27–May 11, 2019
Opening Reception: Wednesday March 27, 2019, 5:00 PM–8:00 PM (with a curatorial walk-through at 5:00 PM, followed by a performance by Jaamil Olawale Kosoko).
ABOUT THE EXHIBITION
In the Presence of Absence explores the creative possibilities of mourning and looks at how people transmute suffering over the loss of loved ones into ways to live.
American society is grounded in the denial of grief. The United States was founded on the slaughter of Native Americans and the enslavement of Africans, yet there are no official, national monuments to attest to these crimes or honor their victims. Meanwhile, statues venerating those who perpetrated them—colonizers and missionaries, slaveholders and Confederate soldiers—abound, creating a sanitized and glorified narrative about the roots of this country. Who gets to be memorialized, and whose perspectives are privileged in that process? These unresolved historical traumas and the erasure of violence underpin our present political reality. Some Americans are mourning a version of the country they thought they knew, while others have been unable to escape the consequences of its myths for centuries.
American culture treats death as either a public spectacle or a highly private matter. But the attendant sorrow and pain don't disappear, and time doesn't heal all wounds; it just changes them. In the Presence of Absence posits that one way to move forward is to deal with our grief—to admit its existence, sit with it, make space for it, and work through it. To hold it in its constancy and discover what it can engender. The artists in this exhibition offer a place to start.
A publication with contributions from Michelle García and Jessica Lynne is available for purchase or download below. The exhibition's curatorial fellow is Nick Witchey, and curatorial adviser is Meghana Karnik. Melinda Hunt's work appears courtesy the Canada Council for the Arts.
Note: To visit Leigh Davis' psychomanteum, a therapeutic tool meant to bring about emotional experiences and a communion with the departed, guests are encouraged to bring photos or personal items (objects which have special meaning to the deceased) to aid in contacting a loved one in spirit.
For more information about the exhibition, artists, and upcoming events, download the exhibition PRESS RELEASE.
ABOUT THE CURATOR
Jillian Steinhauer is a journalist and editor living in Brooklyn, NY. Her writing has appeared recently in the New York Times, The New Republic, The Nation, and The Art Newspaper, among other publications. She won the 2014 Best Art Reporting Award from the U.S. chapter of the International Association of Art Critics for her work at Hyperallergic, where she was formerly a senior editor. She writes mainly about art and politics, or the intersection of art and the world, but has been known to go on at length about cats, as in an essay commissioned for the 2015 book Cat Is Art Spelled Wrong (Coffee House Press). She received her master's in Cultural Reporting and Criticism from NYU.
ABOUT THE ARTISTS
Inbal Abergil is a visual artist and an educator originally from Jerusalem. Abergil works in photography, video, text, and installation. Coming from Israel, a culture where loss, conflict, and trauma are substantial parts of daily life, had a profound effect on her artistic vision. Abergil's work has been exhibited internationally in museum and gallery exhibitions in the U.S., Belfast, Northern Ireland, South Korea, Amsterdam, and Israel. Abergil is the recipient of the Pollock-Krasner Grant (2018). Her work has been shortlisted for the 2018 Documentary Essay Prize at the Center for Documentary Studies at Duke University. Her series Nothing Left Here But The Hurt has been nominated for the Prix Pictet Photography Prize (2012). Abergil received her MFA in visual arts from Columbia University (2011) and is an Assistant Professor of Photography at Pace University.
Emily Carris is an artist and founding member of The Art Dept/Colored Vintage, a collective-run vintage store and workshop space dedicated to sharing stories and uplifting underserved artists, particularly queer, nonbinary, and artists of color. She has a BA in education and photography from Eugene Lang College in New York. She holds a master's degree in photography from UCA in Kent, England. Her work exploring the personal and cultural legacy of slavery and the Black female body has been exhibited nationally and internationally. Emily has worked as a photography teacher and museum educator at the International Center of Photography in New York. She currently lives and works in Philadelphia.
Leigh Davis is a multimedia artist and educator. She has created performances and/or events for the former Morbid Anatomy Museum, Dixon Place, and Hunter East Harlem Gallery, in NYC. Her work has been featured at Open Source Gallery and BRIC (Brooklyn) and the Maryland Institute of Contemporary Art (Baltimore). Recently, Davis created a site-based audio work for the historic chapel at Green-Wood Cemetery. She is a recipient of numerous awards and grants, including those from The Pollination Project and the New York Department of Cultural Affairs. Davis holds a BFA in photography from Savannah College of Art and Design, GA, and a MFA from Concordia University, Montreal. She teaches courses at Parsons the New School for Design and works between Brooklyn, NY, and Washington, DC.

Valery Jung Estabrook was born in Plantation, Florida, and raised on an organic Asian pear farm outside of Lexington, Virginia. She holds an MFA in painting from Brooklyn College and a BA in visual art from Brown University. Her work has been exhibited in major cities both domestically and internationally, including in New York, Los Angeles, Nashville, Lagos, Bilbao, and Melbourne. In 2018 she received the Gold AHL-T&W Foundation Contemporary Visual Art Award, an annual award recognizing artists of Korean heritage in the United States. She currently resides in New Mexico.
Hock E Aye VI Edgar Heap Of Birds is an artist and an advocate for Indigenous communities worldwide. His work includes multidisciplinary forms of public art messages, large-scale drawings, Neuf Series acrylic paintings, prints, works in glass, and monumental porcelain enamel on steel outdoor sculpture. While representing Indigenous communities, his art focuses first on social justice and on the personal freedom to live within the tribal circle as an expressive individual. Heap of Birds' work was shown in the 2007 Venice Biennale and has been exhibited at some of the most renowned institutions in the world. In 2012, he was named a USA Ford Fellow and in 2014 was honored as a Distinguished Alumni from the University of Kansas. Now retired from teaching at the University of Oklahoma after 30 years of service, he continues to serve there as professor emeritus.
Nene Humphrey has exhibited in numerous museums and galleries since coming to New York in 1979. Exhibition locations include the McNay Art Museum, San Antonio, TX; Mead Museum, Amherst, MA; Palmer Museum, PA; High Museum of Art, Atlanta, GA; Sculpture Center, PS1 Contemporary Art Center, and the Lesley Heller Gallery, New York, NY. Humphrey has received awards from the National Endowment for the Arts, The Rockefeller Foundation, Brown Foundation, and Anonymous was a Woman, among others. Her work has been written about in numerous publications including the New York Times, Art in America, ARTnews, Sculpture magazine, Hyperallergic, and Artforum. Since 2005 she has been artist in residence at the Joseph LeDoux neuroscience lab at NYU, where her work has focused on explorations of the brain mechanisms underlying human emotions. She is currently collaborating with musician and composer Matana Roberts on a multidisciplinary performance piece, Lining Out.
Melinda Hunt is a Canadian-born artist and founding director of The Hart Island Project, a public charity with an arts and social justice mission. She is a recent recipient of the Women's Film, TV and Theatre Fund of the City of New York Mayor's Office of Media and Entertainment. She is a current recipient of a Research and Creation Award by the Canada Council for the Arts 2017–2019. She is a 2017 NYFA/NYSCA Fellow in Digital & Electronic Art. Her work as an artist and activist includes developing software for a storytelling platform known as the Traveling Cloud Museum, featuring clocks of anonymity assigned to people who disappear into mass graves on Hart Island. Her creative work has generated three pieces of legislation. Melinda graduated from Reed College (BA) and the Pacific Northwest College of Art (BFA). She received her MFA from the Yale School of Art and a MS in Digital Imaging & Design from NYU.
Jaamil Olawale Kosoko is a Nigerian American poet, curator, and performance artist originally from Detroit, MI. He is a 2019 Red Bull Arts Detroit Writing Fellow, 2018–2020 Live Feed Artist at New York Live Arts, a 2019 DiP Resident Artist at Gibney, a 2019 National Dance Project Award recipient, a 2017 Princeton Arts Fellow, a 2017 Jerome Foundation Artist in Residence at Abrons Arts Center, and a 2017 Cave Canem Poetry Fellow. He lectures, speaks, and performs internationally. His previous works #negrophobia (nominated for a 2016 Bessie Award) and Séancers have toured throughout Europe, appearing in major festivals including Moving in November (Finland), TakeMeSomewhere (UK), SICK! (UK), Tanz im August (Berlin), Oslo Internasjonale Teaterfestival (Norway), Zurich MOVES! (Switzerland), Beursschouwburg (Belgium), and Spielart Festival (Munich), among others. He was an inaugural graduate member of the Institute for Curatorial Practice in Performance (ICPP) at Wesleyan University, where he earned his MA in Curatorial Studies. More at jaamil.com or @jaamilkosoko.
M. Carmen Lane is a Cleveland-based two:spirit African-American and Haudenosaunee (Mohawk/Tuscarora) artist, birthworker, consultant, and facilitator. Their work has been published in numerous journals and anthologies including the Yellow Medicine Review, Red Ink magazine, and Anomaly, and they are a contributor to the Lambda Literary Award–nominated Sovereign Erotics: A Collection of Two Spirit Literatures. Carmen's first collection of poetry is Calling Out After Slaughter (GTK Press, 2015). They are the founder and director of ATNSC: Center for Healing & Creative Leadership (www.atnsc.org), an urban retreat center and social practice experiment in holistic health, leadership development, Indigenous arts & culture, and Akhsótha Gallery located in the historic Buckeye-Larchmere neighborhood. Carmen is a member of NTL Institute for Applied Behavioral Science, Wordcraft Circle of Native Writers and Storytellers, and the experimental pop-up gallery collective ArtsSalvageCLE. Their work was exhibited in the 2018 Front Triennial as a part of A Color Removed (with Michael Rakowitz). Carmen was a 2018 Creative Fusion artist-in-residence.
Todd Shalom is the founder and director of Elastic City, a nonprofit organization that produced over 200 participatory walks and events between 2010 and 2016. In collaboration with performance artist/director Niegel Smith, Todd conceives and stages interactive performances in public and private environments. Todd has been a faculty member at Pratt Institute and the School of Visual Arts. His work has been presented by Abrons Art Center, Brooklyn Museum, Columbia University GSAPP, Des Moines Art Center, The Invisible Dog, ISSUE Project Room, MIT List Visual Arts Center, The Museum of Modern Art, The New Museum, P.S. 122, and Stanford University. Todd has been an artist-in-residence at Akiyoshidai International Art Village (Japan), Bemis Center for Contemporary Arts (Omaha), Lower Manhattan Cultural Council, and SHIFT (EFA Project Space).
This exhibition is dedicated to Henrietta, Suzanne, and Bronia.
EXHIBITION PUBLICATION
A 44-page risographed publication with original contributions from Michelle García and Jessica Lynne, dedications by the artists, and a curatorial essay by Jillian Steinhauer, is available for purchase or download. The publication was designed by Partner & Partners and printed at EFA's Robert Blackburn Printmaking Workshop. Hardcopies of this edition and others in the end_notes series, can be requested by sending an email to: projectspace@efanyc.org.
A digital copy of the publication can be downloaded as a PDF here.
PRESS
Review by Louis Bury in Hyperallergic (May 4, 2019) (PDF)
PUBLIC EVENTS
Inbal Abergil
Johnson from the series N.O.K. - Next of Kin, photographic print, 30 x 40 in.
Johnson from the series N.O.K. - Next of Kin, photographic print, 16 x 20 in
Ortega from the series N.O.K. - Next of Kin, photographic print, 20 x 30 in.
Ortega from the series N.O.K. - Next of Kin, photographic print, 20 x 30 in.
Emily Harris, Reclaimed vol. 2
Archival inkjet ink, linen fabric, linen yarn dyed with South Carolina indigo, silk thread dyed with madder root, naturally dyed silk, antique cotton batting from mid-1800s, cotton/polyester thread, catnip, cinnamon, goldenrod, rue, safflower, tansy, indigo, iron derived from early 1800s slave shackles, platinum & palladium print of the artist, cotton paper, salt from Arrowsic, ME, silk embroidery thread, 24k gold thread, coral, quartz, rock salt, antique Ashanti akua'ba, antique crochet doll (named Lucy), wooden peg holder, malachite, clay leaves, 81 x 128 x 24 in. (approximate)
Leigh Davis, Reunions
Wood, paint, masonite, moleskin, chair, mirror, 103 x 96 x 96 in.
Valery Jung Estabrook, Five Twenty Two #1-19, #21, #23-24, #26-28
25 unique single-channel videos on 7" tablets, 5:22 total run time each, looped
Music composed by John Driscoll
Hock E Aye Vi Edgar Heap of Birds, Dead Indian Stories
Monoprint, ink rag on paper, 15 x 22 in. each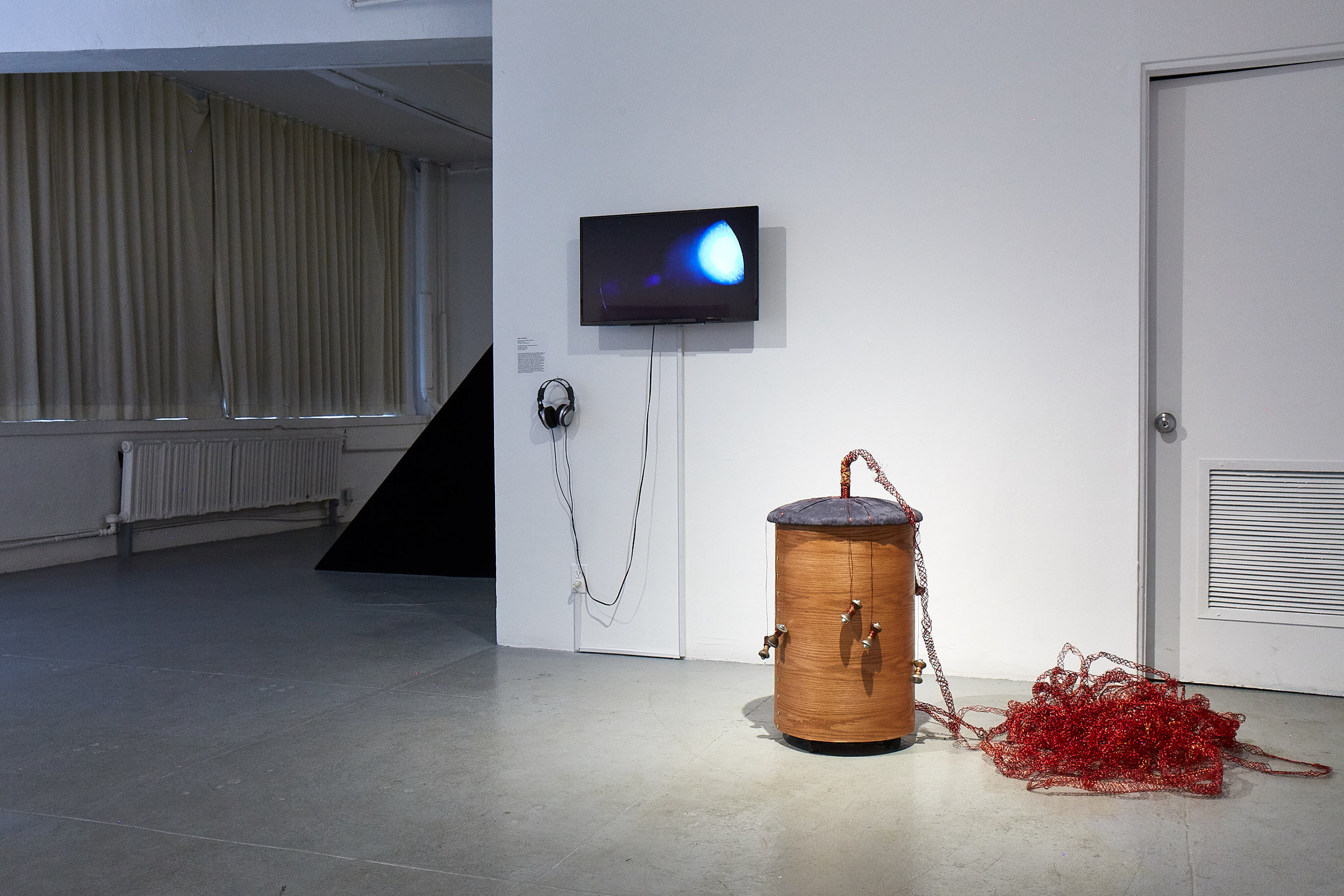 Nene Humphrey
Circling the Center (Braiding Table), wood, wire, fabric, 36 x 36 x 33 in. (approximate)
If You Were To Peer Into The Mourner's Skull, HD single-channel video, 4:27 total run time, looped, poem by Tom Sleigh
Melinda Hunt
After the Fire and Before AIDS: Sonia, acrylic inkjet on Somerset paper, 49.5 x 40 in.
Loneliness in a Beautiful Place: AIDS Burials on Hart Island, single-channel video, 8:21 total run time
Traveling Cloud Museum 2.0, creative software and storytelling platform developed in collaboration with Studio AIRPORT and Inspire.nl
Jaamil Olawale Kosoko, Accidental Saint (J.I.K.D.I.S.Y.G.I.B.)
Mixed-media installation, dimensions variable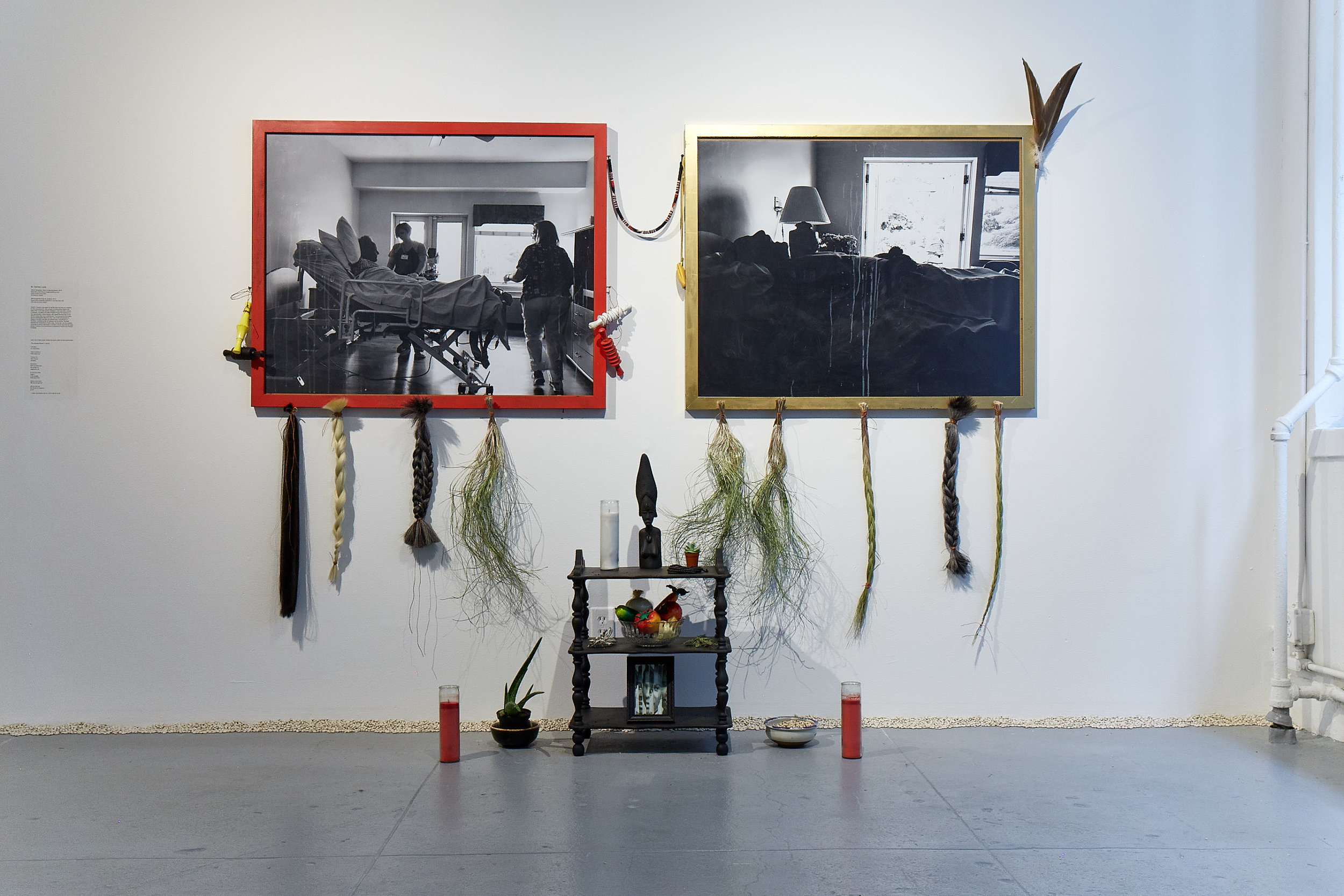 M. Carmen Lane
Akhsó (Grandma): This Is A New Experience, black-and-white iPhone images printed on vinyl, mixed-media construction, dimensions variable
Skin Hunger/the Artist As Caregiver, sound piece (originally published in Anomaly, issue26), 2:50 total run time, looped